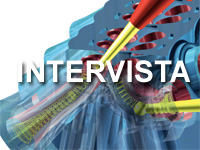 in July 2013, A.R. Precsion Machining was pleased to be selected for an interview in the magazine "Macchine Utensili", an important point of reference for companies interested in the mechanical sector and in particular that of precision machining, new technology and CAD-CAM software.
For years A.R. Costruzioni Meccaniche has dedicated a vital role to its technical department, investing in the training of qualified personnel and selecting the most sophisticated design programs and CAD-CAM design.
The founder and current owner Renato Azzolini, together with his collaborators, guide the company towards technological innovation and computerization to get ahead of change and provide greater accuracy, speed and quality to the finished product.
In the interview with the head of the technical department of AR COSTRUZIONI MECCANICHE srl, what transpires is that nowadays CAD-CAM software is an essential tool in any company operating in precision engineering ...
The full article appeared in "Macchine Utensili - July 2013"
Irreplaceable instruments
AR Precision Machining S.r.l. (San Giovanni Lupatoto, VERONA) has thirty years of experience in mechanical production of small and medium-sized parts, and in particular in the field of industrial sewing machines for packaging. The company currently has about 15 employees, including three in the technical office, and operates vertical machining centers, 4- and 5-axis machining centers, multispindle lathes, grinding machines, EDM machines, etc .: therefore able to create any type of mechanical part of the customer's design, even with micrometer precision.

Stefano zanardelli, head of the technical department, describes the types of software used by the Veneto company, "we work with high quality CAD CAM products and we have just completed some market research to find the most suitable software for the management of orders, that is, a computer system that, in our workshop, would select which machine to use for certain products, which would also manage the flow of materials and labour, from material acquisition to the finished product. We will soon be negotiating the purchase."

So, you are concentrating on the highest degree of computerization?

"100%. for the last 20 years our sector has been relying on computers and invests in software. now everything is designed and programmed by the technical department; even the simplest component, such as a plate with a hole, is drawn with CAD, stored in the digital library and passed to CAM for programming: it is encoded and sent to one machine or the other depending on the urgency, the availability of the machines and operations to be performed. Each machine, of course, uses different CNC but this is not a problem, because the operator receives the programming files from the CAM already coded and loads it into the machine regardless of the CNC. In short, today we could not do without the CAD-CAM system and it would be unthinkable to resort back to ISO programming. What's more, the digital library allows you to "recover" the history of each piece and re-execute production quickly, even after several years, without additional programming, with only perhaps a review of the tooling. It is a huge benefit. "

How could these tools be further improved?

"In some cases the execution of the pieces, especially complex ones that require production on the 5-axis machining centers, can be a very tricky process. experience, skill and mechanical knowledge are needed and perhaps a little imagination. I think, the new CAM systems could intervene in this decision making process, suggesting types of machining, cutting parameters, speeds, choices of tools, etc., from the raw material to the finished product. This would save valuable time. "

Do you not believe that in this way the software would replace human intervention completely?

"I would have to say no, experience would still count, as well as knowledge of mechanics: vibration, use of coolant, degree of finish, etc., The human eye will always be needed but the software could certainly give a big hand. "

Back to the machining products on the market today. Do you think it is difficult to learn to operate them?

"I don't think so. The programs we use are quite simple and intuitive, and I think it's a feature all the software houses aim for. The simplest functions are obviously in 2D, whereas for 3D work, in particular on the continuous 5 axis, things get complicated because in this case dimensions, introduction of modifications, tool collisions, etc. require a level of programming by no means basic. Furthermore, each product has different characteristics for its use and a good understanding of this is needed. "

source: Macchine Utensili July 2013